Description
WHY SHOULD YOU BUY FROM US?
6 mo warranty on flag and pole (but most last 50-100% longer)
Full 100% Bleed through on single side flag
Top Quality tight woven polyester material
Proprietary Dye Sublimation Process that embeds ink into fiber
3 layer tip with 1/8" felt inside and 2 layers of double sewn material
High quality thread and workmanship
Poles that are rated for 48 mph, not 25
WARRANTY:
Hardware is covered for workmanship for a period of 12 months. Single sided flags can withstand gusts of 40 mph. Flag is covered for workmanship, material durability and colorfastness for 6 months, although normal fade from sun is considered normal, as any dye fabric will fade in sun over time. We dye color into the material fiber. It is the best way to apply graphics as opposed to silkscreen or digital print which sits on the fibers, not IN the fibers. Your flag and hardware will easily last a couple years if used with care and repairs are available for a small fee for non warranty coverage damages.
MAKING YOUR FEATHER FLAG:
You flag is custom made to order. We invoice and collect payment and email you a paid invoice. A work order is created and your next stop is in the art department, where your mock up is created. If your provided logo or graphics are not in a vectored or professional format, we will contact you. We do offer a vector file creation service for $65. Once your mock up is approved, the print file at actual size is sent to printing, pressing, cutting and sewing for completion and ship out.
Feather and Teardrop style. These flags are direct to fabric dye sublimated for vibrant color and great bleed on back , Full graphics set up included. Wholesale Direct. Retails over $300
Our hardware, along with our 3 oz specially treated tight woven material manufacture just for our factory and solely for this flag application will present a flag as shown at right. The message is clear, the customer will see more sales traffic. Our goal is to increase our client's sales traffic by designing and creating an effective advertising flag.

$20 Flags
This customer was simply looking at price point with no regard to quality  He probably ordered with good intention. A label was printed or he may have even had a design made and approved, but without the proper graphics application , bleed though, workmanship or correct hardware, he was simply parted with his money. 90% of all business fail within 5 years because they forget that getting new and repeat customers every day is job one.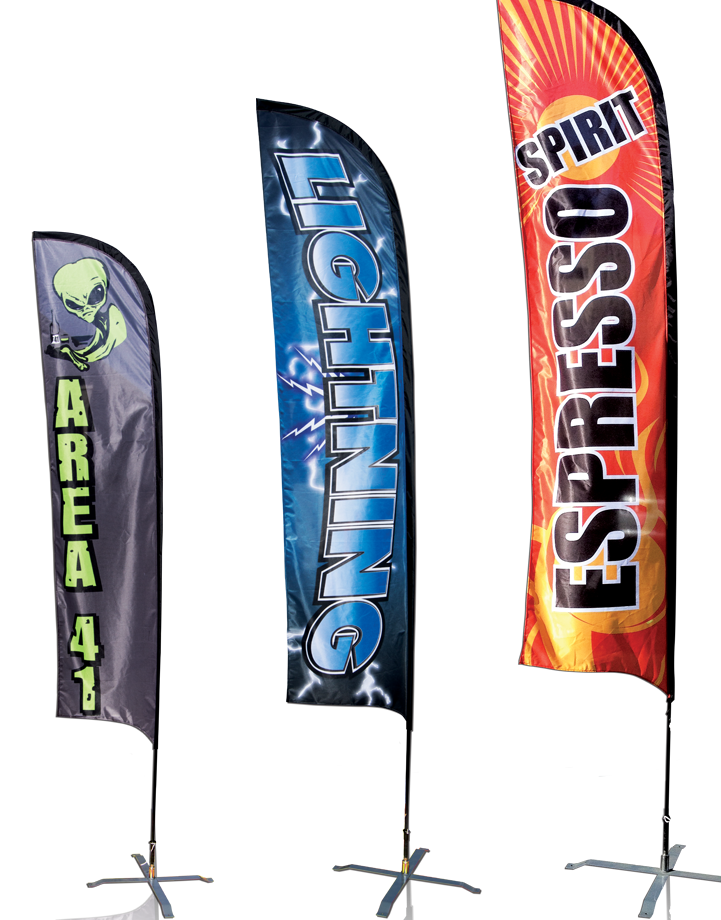 Our 12' Package for $129.00
Our customer had a flag custom designed with the sole purpose of conveying his service message and branding in a manner that paid for itself in a matter of days or a week. He received consultation, art set up and design, his logo and artwork, a mock up for approval and was delivered a top quality $385 flag at well below wholesale in under 10 days from order.
DOWNLOAD TEMPLATES
If you are creating your own mock up in a vectored format, we are in process of automating that feature, in the meantime simply email our art dept  art@inflateco.com  or request it in the comments area of your art file upload or your online order comments field and we will send it to you immediately (Mon – Fri 7am to 5pm PT).
MANUFACTURING:
Made here in our California factory. Each flag is carefully handcrafted to order. We will help you create the most effective flag and layout. Once art is approved, we move your flag through the printing department in a two step dye sublimation to heat press process and then into our cutting and sewing room for completion and ship out.
MATERIAL:
3 oz proprietary tightly woven polyester made and treated exclusively for our company by our own textile manufacturer. Our tight weave produces a more vibrant image (not a mesh look). Our treatment and print process provides a full 100% bleed though. We are one of the only companies that can do a full bleed through.
GRAPHICS APPLICATION:
Direct to fabric dye sublimation using Italian nano inks (highest quality), generous use of ink and heat pressed in second step under 25 lbs of pressure at 400 degrees to gas the color deep into the polyester fibers , as opposed to a print on the outside of the material. This is the most fade resistant and durable application process. We do not silk screen, direct fabric or digital print, all which only put ink on the surface of the material fibers, as opposed to inside of them.
SLEEVE:
200 Denier nylon heavy duty UV treated thread and reinforced sleeve sewn with 4 thread over-lock sewing machines. Many companies use the same material as the flag and although that can allow the image to extend over the sleeve, it makes for a poorly made unit.
HARDWARE:
100% fiberglass poles rated for wind gusts of 48 mph. Our experience with these poles has far exceeded any other pole on the market. There are similar looking poles, that even appear better made when out of the box, but in fact those poles are rated for 25 mph. (all wind ratings based on single sided flag). Some flags on the market may be found for $10 to $15  less, but you can be sure you are getting less of a flag or hardware for the difference. We make one version, the best and we price it at the lowest prices possible. We will always be your best value. We make hundreds of flags each week and we certainly would not want to be replacing broken poles over a few dollars. Nor, would we sell our customer anything less than the most cost effective, yet best performing hardware available.
STANDS:
STAKES: Our Swivel Stakes are heavy duty with wide shaft for pole attachment, which prevents breakage at stake stem as with some other stakes on market. They are heavy duty and can be left in the ground. Simply attach or remove your 3 piece pole when excessive wind storms take place.
CROSS STANDS: Our cross stands are the 8.5 pound 2 x 2 FT heavy duty flat stands, not the the lightweight telescopic cross stands. They even have a small hole drilled in the end of each leg so if you needed to secure them into the ground, you could do that with a long thin spike. If high winds present themselves, we recommend sand bags. They provide much, much more weight than the water bags you see. We do offer the bags, but sand bags are much more effective for weight. A cross stand will need some weight on it on days exceeding 15 mph wind
CAR STANDS: We have car stands that are used primarily by car dealerships. They allow a car tire to secure the base. They are heavy duty and only recommended for those kind of situations.
Common Answers for customers:
A: Our flags are made to order and designed to maximize your return so be creative.
A: In 90% of cases a single sided flag is recommended. The human eye can interpret a mirrored image on the other side
A: Single Sided Flags wave and withstand more wind. That motion is what makes drivers look. Double sided flags weigh 2 1/2 time more
A: You will receive a mock up within 48 hours of your order, unless a highly custom design or improper art provided.
A: We do not go to print until you approve your mock up
A: Be specific about your colors. If an exact color shade is desired, be sure to provide a PMS color code. CMYK is unreliable for matching
A: Colors dyed fabric will always be different than they appear on paper or a computer monitor.
A: Your Flag can be ready as a rush the very next day (see conditions above), otherwise , expect to have your flag in 2 weeks on average.
A: We can do large quantities in a very short time, even 100  flags in 2 days if needed. Call to inquire on those last minute large orders.
A: We make our flags here in our factory. They are dyed, not digitally printed or silkscreened. It is more expensive to make but last longer.
A: Quantity discounts of 50 are given to orders as small as quantity 1. We do not negotiate price since we spare no expense on quality
A: Our hardware is a thin and flexible fiberglass. At first glance it may not appear as heavy duty as some, but it actually performs better.
A: Due to our dye process, our flags will be the most colorfast (least fade), but any flag, used outdoors, will ultimately fade over time
A: Our material is specifically manufactured just for us to our specifications and has a tight weave so our 3 oz polyester is not mesh see thru
A: We are a customer service driven company that offers full consultation, turn key graphics solutions and we are here to help.